How to extract emails from PST file?
Q.1. How to Activate the software?
Register: To register the "Outlook Email Extractor" click on the "Enter Activation Key"" Button and fill the Registration Detail with the "Activation Code".
Buy : You have to Buy ""Outlook Email Extractor"" to get Activation Code. You Can Buy it From our Site by Clicking on "Buy Activation Key" button.
Try Demo: You can use demo version of "Outlook Email Extractor"" by clicking on "Continue in Demo Version" Button.
---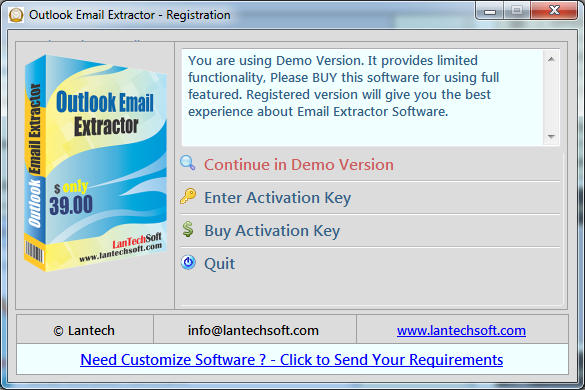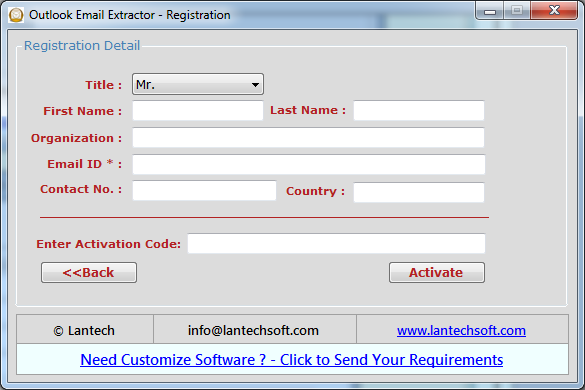 Q.2. How to Select a Profile and Extract Email Adresses from MS Outlook?
First you run Outlook Email Extractor. it will ask to select the current profile & fill all available personal folders in selected profile or default one.
Select a profile and click "Ok" button.
It will show you all "Personal Folders" from selected profile in a Tree Structure.
Check (Select) the Folder(s) from the Folders Tree and then click "Start Extracting Emails" button.
Extraction of Email Addresses from the selected (checked) folders will be start.
Process can be stopped whenever you like just click the "Stop" button.
---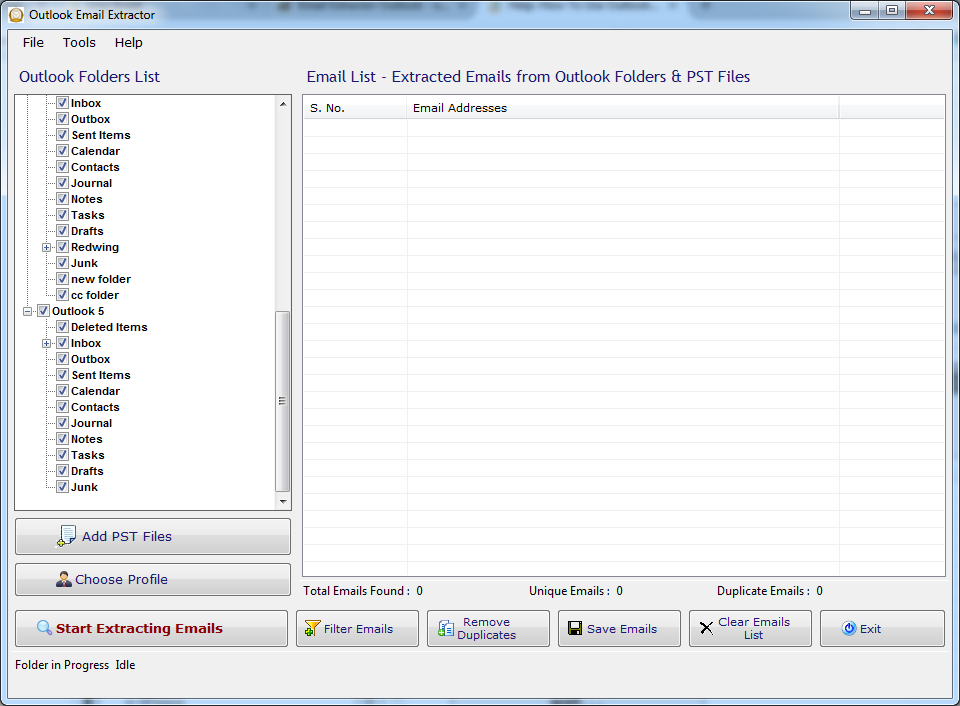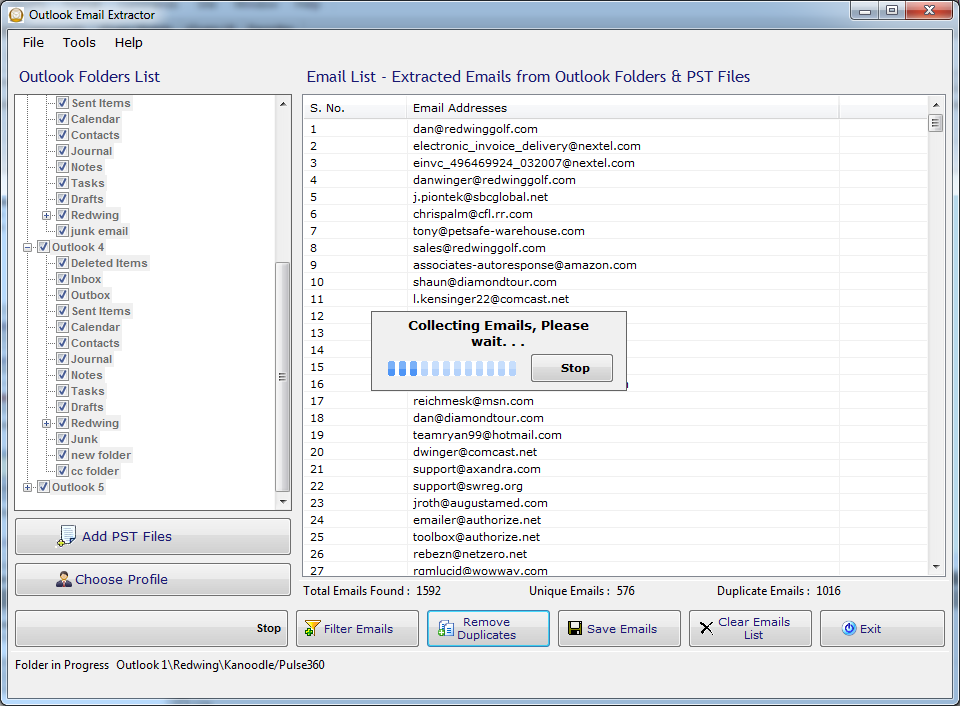 Q.3. How to Filter Extracted Email Addresses?
Users can filter the email ids downloaded according to their settings in MS outlook.
You can also change the criteria of extracting email ids by going into settings and making changes in the options given.
The user can make changes and click on the option "Apply" to save the changes.
Now the IDs which you will receive on your screen are filtered.
---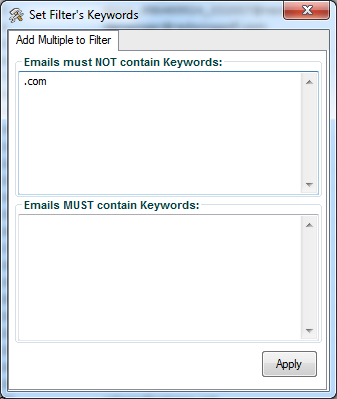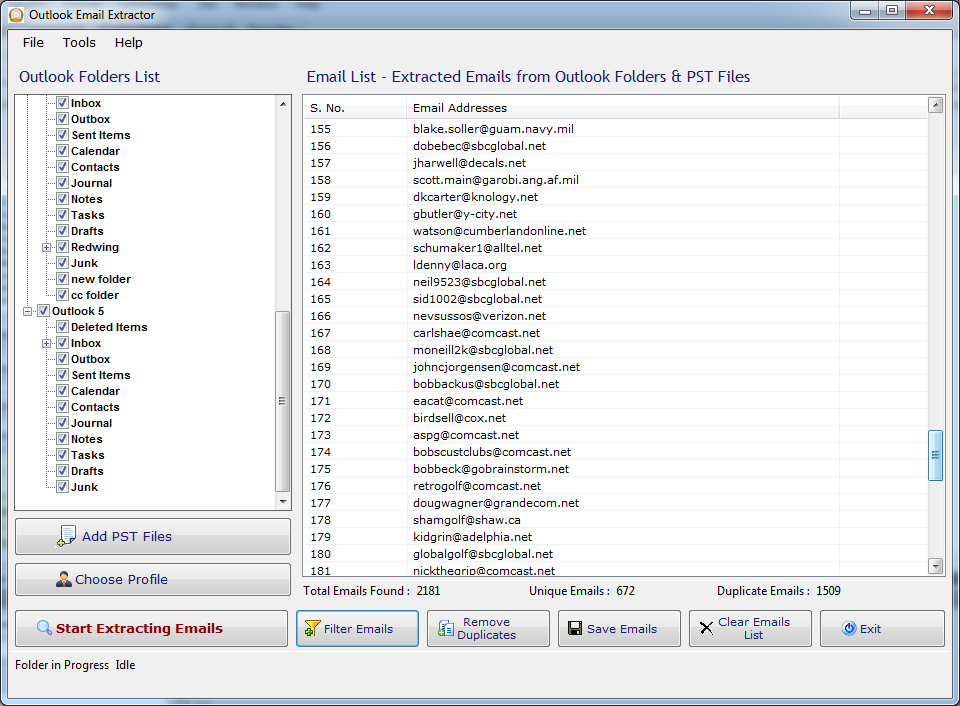 Q.4. How to Change the Selected profile in MS Outlook?
Before changing the selected profile, please save extracted email addresses and close all open Microsoft Outlook explorer and click
"Choose Profile"
button.
Choosing the profile Clears all mail folders showing in the tree structure.
"Choose Profile" dialog will be shown like below.
Select available profile from "Choose Profile" dialog box and click "Ok" button.
Add .PST Files to the Profiles:
Open "Add .PST files" button on the main window of the software.
Select .PST files from the Hard-drive.
Selection of .PST files re-fills all mail folders(Personal Flders) of the .PST files.
Now you check folders from the Tree structure on left panel for extract emails.
---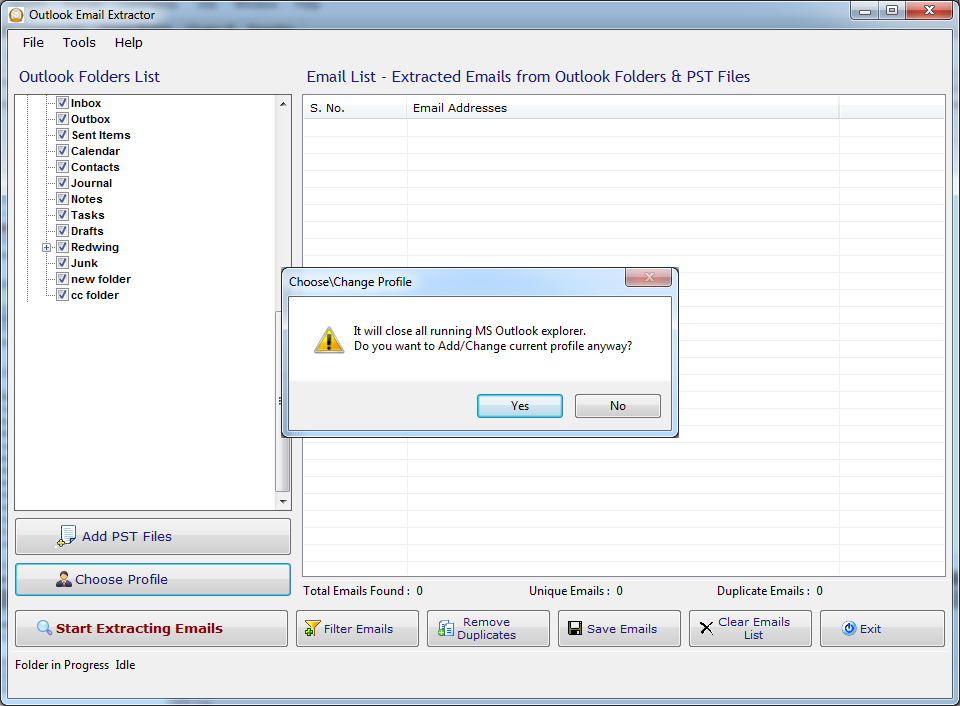 Q.5. How to save Extracted Email Addresses?
Extracted Email Addresses can be saved in .CSV(Excel Format)/.txt/ new Line format.
---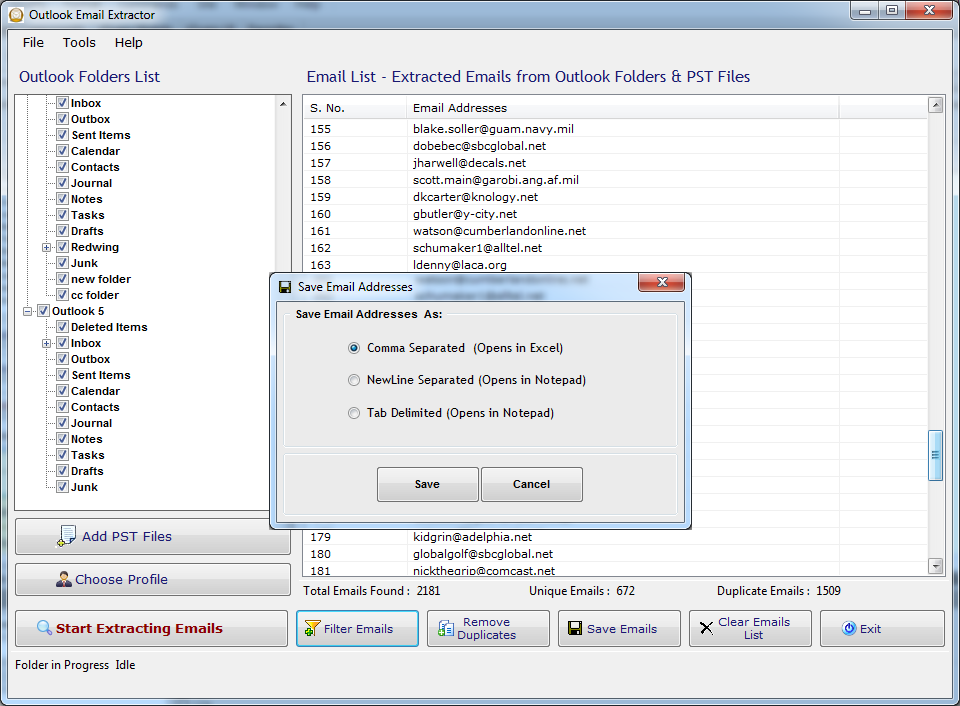 Q.6. How to change Settings?
For settings, choose "
Tools
-> Options..." menu....
In the settings window you can set "Search for Duplicate Email Addresses" and "Search from HTML Tags".
"Search from HTML Tags" option allows this software to search emails from HTML tags also. Due to this option searching may take time then usual.
Emails Settings helps you to get a clean list of emails by removing unwanted emails.
Enter the keyword those you don't want in emails or specify keyword those must be in emails.
---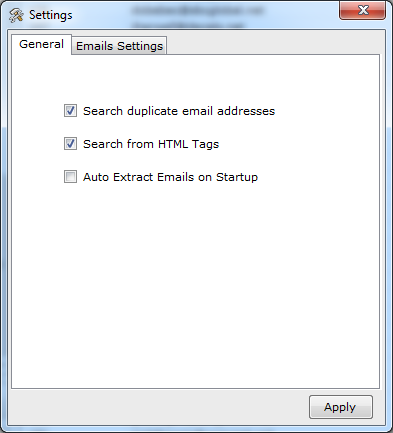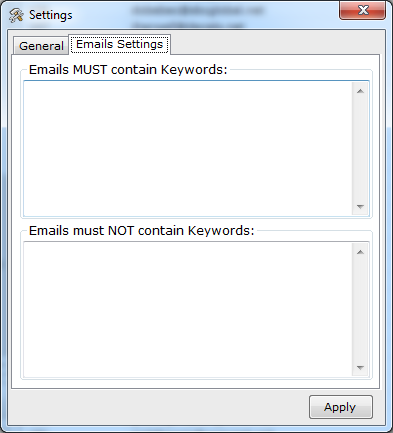 Q.6. How to Deactivate or Transfer License to Another PC?
Step-1 : Click on left bottom "Help Logo" Button.
Step-2 : Deactivate from current PC. CLICK on Deactivate Option.
Step-3 : Click on "Yes" Button and in last.
Step-4 : Click on "Ok" Button.
Step-5 : Install the software on new PC and Register it with same Activation Key.
---