Online Help
Awords
Web Email Extractor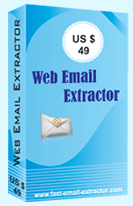 Web Email Extractor is the FASTEST email extractor available on internet
Web Email Extractor Extracts email Addresses From internet through Search Engines.
Search engines can be updated online for free for best result obtain.
Extracted emails can be saved .CSV and text files.
It is the FASTEST email extractor available on internet.
Now you can use advanced email extractor lite 1.4 and 1.6 software tool online for free of cost, our online tool can help you to grab thousands of email ids from content within minutes. harvesting emails from content could be a time consuming and irritating work for some individual but using this online email extractor lite 1.4 and lite 1.6 tool make it simple and easier for everyone to get their work done in no time and the best part is it is available online for free, however if you want than you can also try out our some of the advanced email extractor software to grab emails from website/internet which is more advanced and accurate.
© LantechSoft | info@fast-email-extractor.com